Auguste Mariette's publications from the 1870s entitled: "Dendérah : description générale du grand temple de cette ville." are slightly inaccurate, and omit symbols and details. one can view the manuscript here:
https://digitalcollections.nypl.org/collections/dendrah-description-gnrale-du-grand-temple-de-cette-ville#/

As much as i highly appreciate this great work, it must be known that Auguste Mariette's drawings exhibit inaccuracies, missing symbolism, and missing details, when we compare them to the real thing.
it is important to note that these 1870s publications are the go-to source for most egyptologists and scholars studying the temple of HatHor at Dendera, for example his drawings are used in the wikipedia page of the "debunking" of the so-called "dendera light": https://en.wikipedia.org/wiki/Dendera_light (i believe it's something electrical, but not a light in that mural – a new post with new revelations coming soon on that)

Below are some photos i took on my visits to the temple, with a comparison to Auguste Mariette's drawings.

These are just a select few key pieces to demonstrate the type of inaccuracies and missing symbolism. There is obviously a lot more to be compared. Some may view these inaccuracies as insignificant, but for example the difference between a straight "tail" or serpent, and a wavy one, and whether something is pinning it down, may be the difference between "on" and "off", so-to-speak. Accuracy is important, so are details.

"Crypte 4":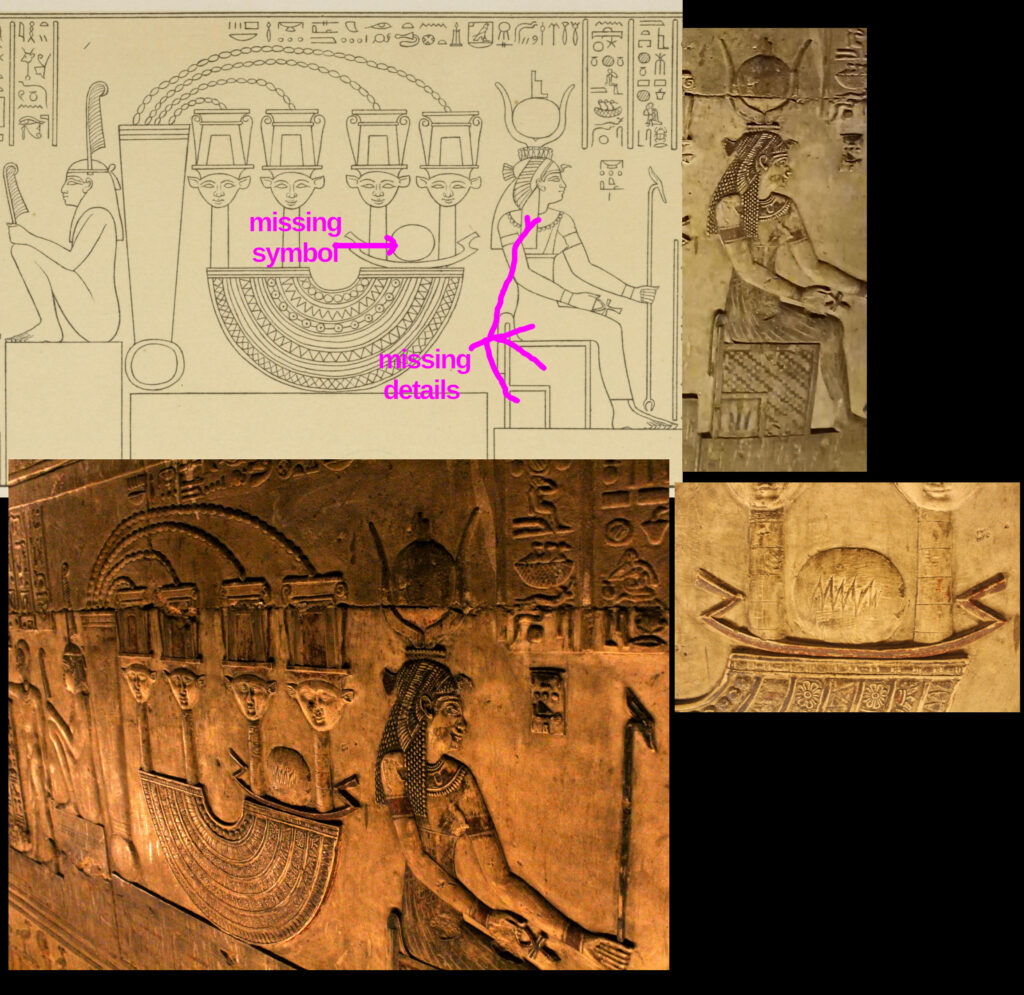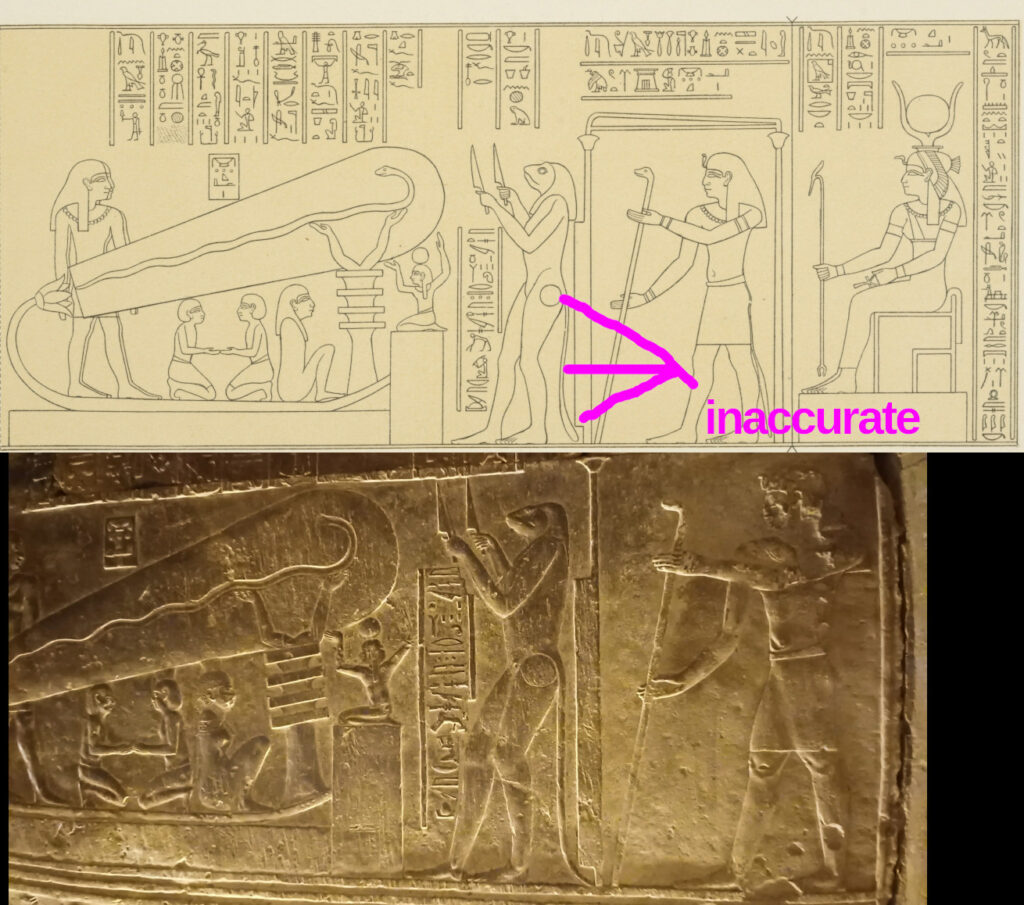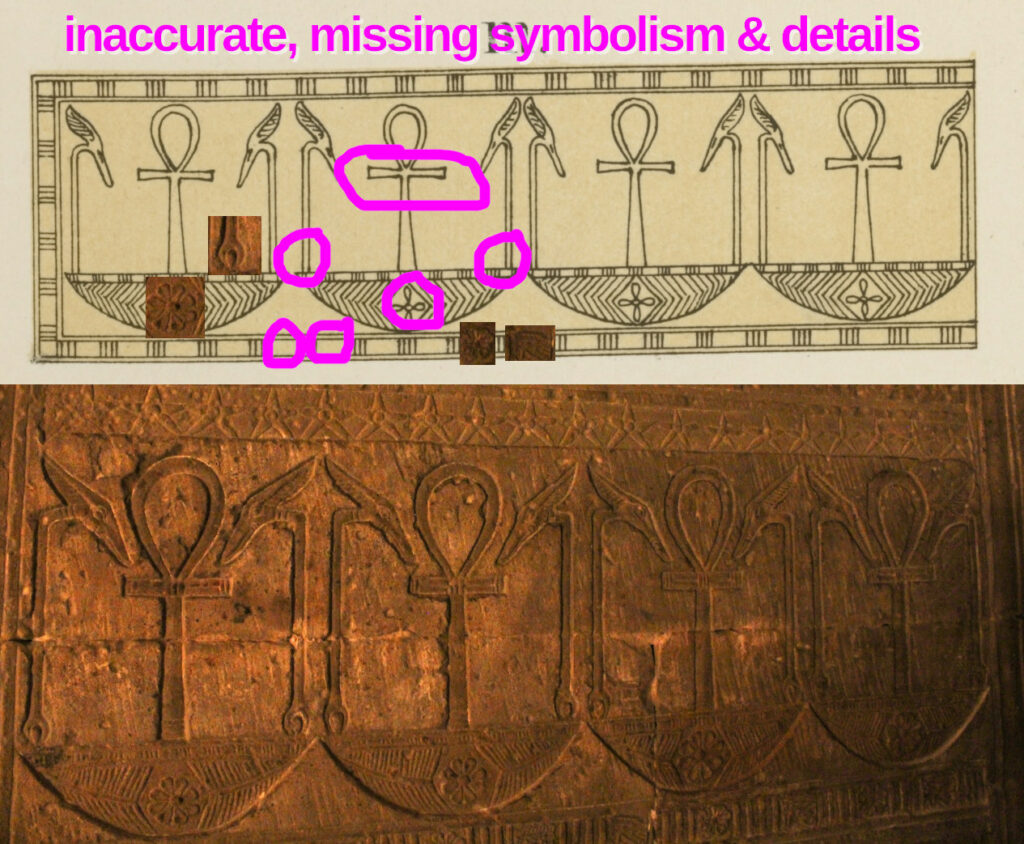 however, it does contain drawings of some bits and pieces that are now missing, which were intact in his time (for example in "Crypte 4", a few small pieces). That said, unfortunately "Crypte 7" is still missing the main sections in his drawings, "Crypte 7" and other parts were subject blatant destruction of many of the main sections, so the fact those missing sections are not in his drawings are a clear indication that "Crypte 7" had been hacked off before the 1870s.